Apartment Refurbishment – Transformed to Modern and Bright, Contemporary
Delighted with the finish on this apartment refurbishment for a loyal client in Castleknock, Dublin 15. A standard duplex apartment, with wooden handrail and kitchen units and dated flooring.
Kitchen
As our client loves Navy, we laquered the existing lower wooden units in a gorgeous contemporary navy, and on the wall cabinets, we chose a white laquer to make them invisible.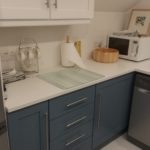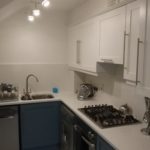 To add light and sparkle, we put full quartz worktop throughout and full splash back.
We also added feature continental LED spot lights.
To compliment all this, we added a large quartz tile floor tile, with few joins, it creates an illusion of space and helps everything flow.
The client is really happy and so am I.
Bathrooms
Ensuite
In the ensuite, we went for a total refurbishment, with a larger shower tray, chrome shower head, towel rail and tiled surround.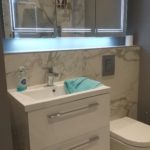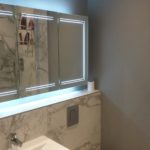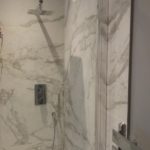 We then created a wall hung cistern unit, in same tiling, creating a vanity unit shelf to link and bring together the large lighted vanity mirror.  Again, this opens up the area, creating an illusion of sapce.
Main Bathroom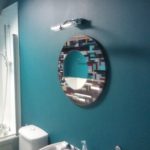 In the main bathroom, we built on the gorgeous existing mosaic mirror that was there.
We painted the walls a gorgeous bright turquois blue, bringing warmth, colour and impact against the existing white suite.
Stairwell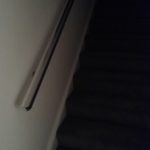 We added mpact to the stair area, wrapping the handrail in a chrome finish and adding a soft grey new carpet.  What a change.
Overall, I am delighted with the finish… so far. Watch this space as we finish the living room. Like what you see, call me on 01 294 365 or email me here.