Client had a glossy cream Tile it showed every foot mark, was impossible to keep clean. And with a new dog it was a hundred times worse.
I suggested a grey Laminate Tile, matte, with markings that perfectly picked up her existing cherry kitchen cupboards. It is practical, doesn't show dirt or marks. It is easily kept  clean and dog friendly.
The customer and I tested the sample with muddy feet and cloths. No visible marks – great result.
And we are laying very economically, by putting on top of existing ceramic Tiles.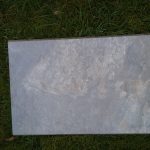 My client likes it so much we are using it in the hall as well, running straight through.