Delighted with the finish on a one-bedroom buy to let in Sandyford.
Previously owned by an elderly lady,  the apartment had an out of date look when my client bought it as a buy to let.
One of the main imposing features was the dark tiled wooden floor throughout.  We decided to leave it as budget was tight. But covered it with a gorgeous square piece of grey carpet that we got bound as we couldn't find a rug in such a large style.
This immediately took the colour away from the outdated brown and cream and we were then able to use contemporary soft greys and taupes, with a touch of claret red in the furnishings.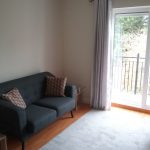 We added a small contemporary style two seater sofa, in a dark grey, which is a good practical colour for tenants and added glass square side tables to bring a feeling of space.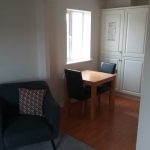 We put in soft textured ready made eyelet curtains, which again brought light into the room.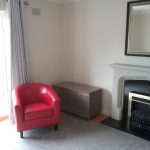 Additional finishing touches included a contemporary TV unit, the claret red chair and a simple table and chairs.
We also painted the kitchen and in the bathroom painted the walls the same colour as the tiles to create a spacious clean look.  Again this gave us the opportunity to transform the bathroom without renovating.
Overall, we brought light and a bit of contemporary style to an outdated apartment, suitable for any tenant.  And of course, our cost saving ideas for the living room rug and the bathroom pain, ensured we came in well under budget for our client.
In between tenants? Give me a call on 01 294 3675 or email me here.