Delighted with this Kitchen Diner refurbishment in Templeogue.
Delighted with the overall effect of bringing light into the room which was dark and separate, which these before pictures show.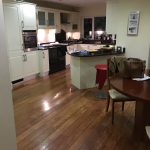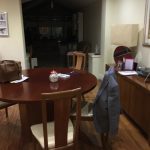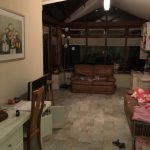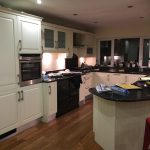 And am particularly pleased to be asked back by client eleven years later, to modernise, upgrade and bring more light into the kitchen and living areas.
We started by breaking through into the kitchen area and sun room to make a bigger open space and better family room.
We then reused the kitchen cupboards, and painted with a light grey and ivory which contrasted better with the cherry table and sideboards which client wanted to keep.
We also added the island and was delighted to say that the gorgeous red designer italian bar stools we used 11 years ago were still in perfect condition.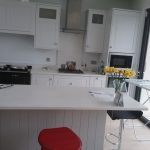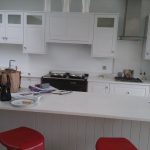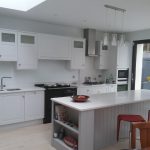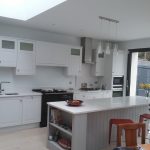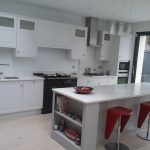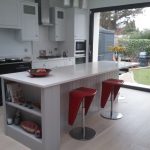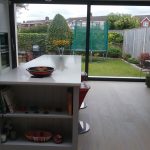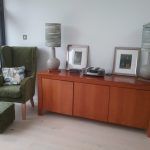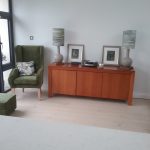 We then sourced and covered the gorgeous chair and footstool in the corner to create a lovely relaxing reading spot in the light.
The forest green was chosen to blend in with the cherry wood sideboard which the client wanted to keep. We reused the gorgeous stoneware lamps, but got gorgeous light grey silk lampshades made.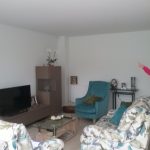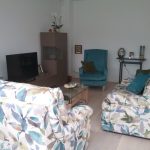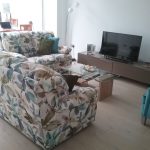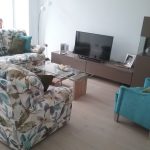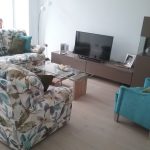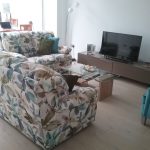 We recovered the existing leaather sofa in gorgeous light blues and taupe to link up with the cherrywood dining table and side board.
We ordered from a Spanish designer the TV unit and it is finished in an complimentary laquer.  The glass coffee and side table bring more into this corner of the room.
Fantastic finish, and delighted for client that we were able to reuse so much of their existing furniture and kitchen. But still managed to totally transform the room.
Like what you see? Call me on 01 294 3675 or email me here.